Venturi flowmeter
DP flowmeter for the highest requirements of accuracy and long-term stability
For acceptance testing, billing, reference measurement of steam, feedwater, hydrocarbons etc.
Machined or welded and internally machined design acc. to EN ISO 5167 and ASME MFC-3M; low remaining pressure loss
Manufacturing capability up to 48"; inhouse calibration also for applications with high Reynolds numbers
Complete scope of supply from one source, incl. engineering, documentation, testing, calibration, valves, Venturi, process instrumentation, etc.
Venturi flowmeter – redundant DP flowmeter assembly with Venturi tube, condensate pots, process valves, manifolds, DP transmitters, pressure transmitter and temperature sensor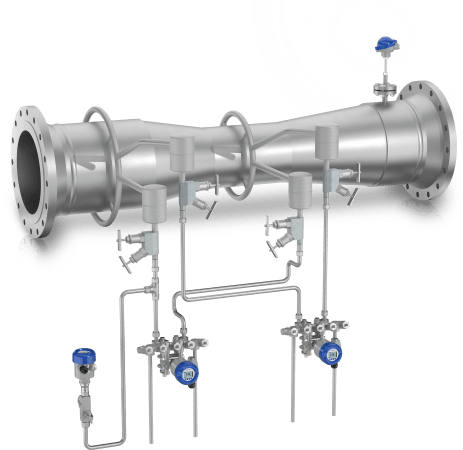 The Venturi flowmeter is based on a classical Venturi tube, an engineered primary flow element for a most efficient and accurate differential pressure (DP) flow measurement. Thanks to its design, it has an excellent resistance to wear and doesn't require any maintenance. The service life of the Venturi element is usually equal to the one of the entire plant. It is therefore often the ideal choice in live steam applications of power plants, wet gas flow measurement in natural gas production or CO2 injection, flow measurement of hydrocarbons and LNG as well as in gas-to-liquid processes and refineries. KROHNE offers the complete flowmeter assembly with the Venturi tube, DP transmitter, valves, accessories, engineering, testing and documentation from a single source.
Venturi tubes have one of the lowest permanent pressure loss among all primary elements, contributing to considerable energy conservation and cost savings. KROHNE offers the full range of Venturi tube designs to meet the specific application conditions. Depending on the line size and pressure rating, the Venturi tube will be made of barstock material or sheet metal. Special materials for harsh conditions are available as full material option or often also as cost-effective plasma surface coatings. Special constructions such as redundant tappings, inlet/outlets runs or flow conditioners in accordance with relevant standards (ISO 5167, etc.). can also be supplied.
The throat section and all internal welding are machined to assure perfect surface conditions and flow performance. Welds are outside of the cone-throat transition which makes the construction more precise and rugged compared to standard welded designs.
The sophisticated OPTIBAR DP 7060 and OPTIBAR DP 3050 DP transmitters are the perfect companion for this DP flowmeter solution. They are 3D linearised and ensure advanced performance even at high static pressures. The OPTIBAR DP series has an outstanding long-term stability and a low total cost of ownership with a reduced need for field calibrations.
Product highlights
Flowmeter assembly for the highest requirements of accuracy and long-term stability
Only short straight inlet/outlet pipe sections required
Very low remaining pressure drop
Fully machined or welded/machined design for perfect surface conditions and flow performance
Manufacturing and calibration capabilities up to 48"
Special 20-point calibration at high Reynolds-numbers possible (e.g. acc. to ASME PTC)
Specific versions for acceptance testing, wet gas, geothermal steam, CO2 hydrocarbons and others available
Reduced engineering, commissioning and installation costs
Reduced TCO due to reduced need for recalibration in the field through advanced 3-D linearised OPTIBAR DP transmitters
Complete flowmeter solution with Venturi tube, DP transmitter, flow computer, valves, accessories, engineering, testing and documentation from a single source
Redundancy available (1oo2, 2oo3)
HART®7, Foundation fieldbus and Profibus-PA communication options
SIL 2/3 certified versions
Ex ia, Ex d approvals
International references with renowned EPCs
Typical applications
Feedwater and steam flow measurement at power plants
Acceptance testing
Hot gas flows in thermal processes
Geothermal steam flow and quality measurement
Flow measurement in oil and gas production e.g. gas lift
CCS / CO2 injection
Liquefied hydrogen (LH2)
Measurement of cryogenic flows e.g. liquefied natural gas (LNG)
Wet gas flow measurement
Refined products flow measurement
Accessories for this product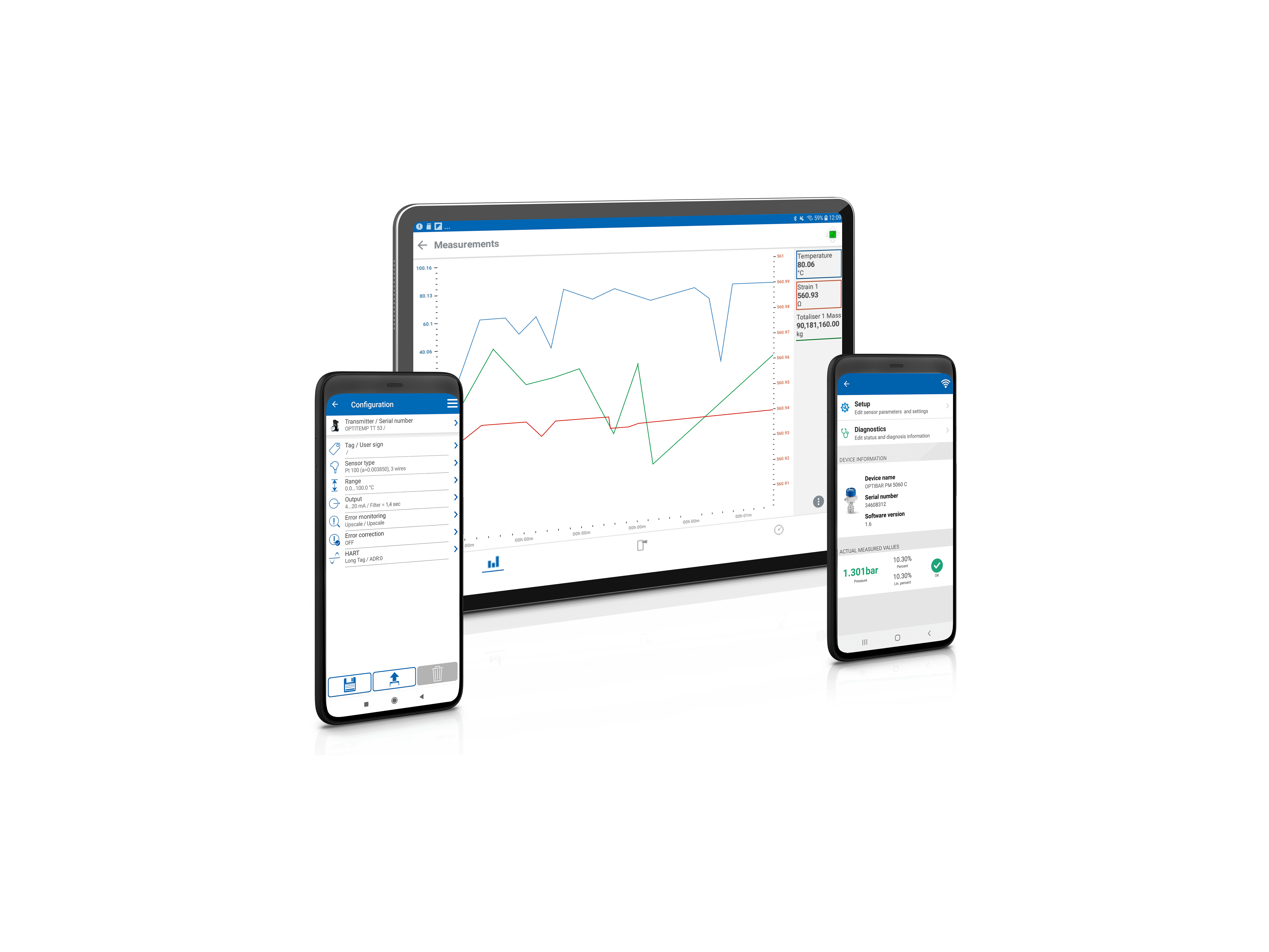 OPTICHECK Mobile
Mobile app for wireless device commissioning, verification and monitoring
Wireless commissioning and device parametrisation via secure Bluetooth connection
Verification without measurement interruption
Monitoring of meter performance and application parameters
Free download for iOS and Android
View product details